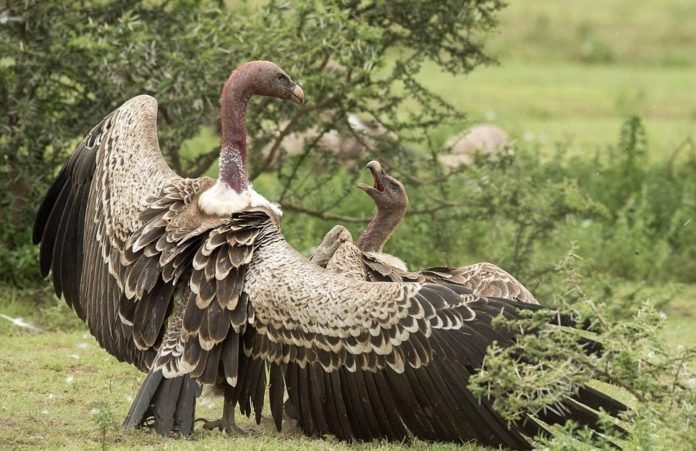 Some two years back a few enthusiastic bird lovers designed a project in association with the authorities of the Kanpur Zoological Park (Zoo) with the idea of protecting the vultures which are said to be on the verge of fast extinction just for want of food.
Under the novel and the ambitious project two open cemented platforms were constructed, within the premises of the Zoo. These platforms were named as "Raptors Restaurant".
The cemented platforms were constructed in an isolated area of the zoo and were surrounded by green lush trees. Big tree trunks were kept all around the cemented platforms, to be used by vultures as "benches" to sit and to enjoy the leftovers of meat put here by the zoo authorities.
In no time the restaurants attracted the vultures and they started visiting it daily  at a fixed time in the noon. They sat on the "benches" and enjoyed the waste meat put here for them.
Just near the "Restaurants" a twenty by twenty feet pond with half feet to one feet depth was also constructed, so that the vultures could wash their beaks and could even take bath in it.
"As a common practice carnivorous birds take bath after eating either the fresh or the stale meat to keep them infection free. These birds do not eat meat any other place where they do not have water facility for washing their beaks and bathing."
"The main object behind opening the unique restaurant was two folds.The first object was to put all the leftover meat at one place to avoid the pollution in the enclosures of the carnivorous or in the campus.
"Secondly, the idea was to provide food to the vultures which were on fast extinction just for want of food," said a veterinarian pleading anonymity.
The adventure proved to be very successful.A large number of vultures started visiting it. But only last year the Raptors' Restaurants were shut down allegedly due to certain official complexities said a senior staff members of the Zoo on the condition of anonymity.