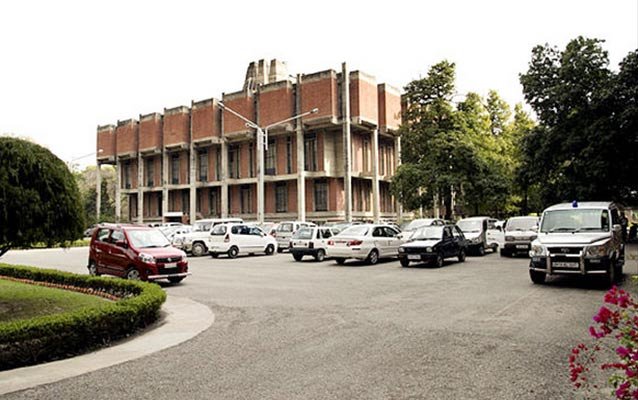 Kanpur, Nov 7, 2022: IIT Kanpur-backed innovation 'Fleather' – a regenerative approach to creating leather out of floral waste, developed by IIT Kanpur-incubated startup Phool.co, gets global recognition as one of the fifteen finalists for the 2022 Earthshot Prize, as announced by Prince William recently. The Earthshot Prize recognizes an accomplished group of entrepreneurs and innovators spearheading ground-breaking solutions to the grave environmental challenges our planet faces. 'Fleather' is one of the only two innovations shortlisted from India for the award this year.
'Fleather' is a revolutionary product developed as animal-free leather by Phool. They are a startup founded by Ankit Agarwal and Prateek Kumar in July 2017 with critical incubation support from the Startup Incubation and Innovation Centre (SIIC), the technology business incubator of IIT Kanpur. The ideation and work to turn flower waste to sustainable products, however, was started by the team by 2015 itself. With critical R&D support and funding from IIT Kanpur, the Phool team started with making incense sticks from flower waste and then introduced the 'Fleather' as an alternative to animal-based/plastic leather.
Fleather by PHOOL.Co will now be in the running to receive a £1 million award at the second-annual Earthshot Prize awards ceremony to be held on December 2 in Boston. The Prize takes inspiration from President John F. Kennedy's 'Moonshot'. The finalists were selected from more than 1,000 nominations following a rigorous 10-month selection process by a panel of advisors with expertise in science, conservation, innovation, investment, economics, politics and activism. Fleather by PHOOL.Co has been shortlisted in "The Earthshot Prize to Build A Waste-Free World" category.
While unveiling the finalists, Prince William said, "The innovators, leaders, and visionaries that have made it to the 2022 Earthshot finalists prove there are many reasons to be optimistic about the future of our planet. They are directing their time, energy, and talent towards bold solutions with the power to not only solve our planet's greatest environmental challenges but to create healthier, more prosperous, and more sustainable communities for generations to come." Prof. Abhay Karandikar, Director IIT Kanpur congratulated the Phool team, "I am delighted to learn about 'Fleather' developed by our incubated startup Phool being shortlisted as one of the finalists for the prestigious Earthshot Prize 2022.
IIT Kanpur had assisted the startup with critical R&D and incubation support from the start. From transforming flower waste into incense sticks to creating the vegan alternative to animal leather – Fleather, the sustainable model that the startup has been following truly benefits the environment and helps the economy grow. Their support to underprivileged families and rural women through employment is an inspiring model in itself. My heartiest congratulations to Ankit Agarwal, Founder & CEO, PHOOL and his team, and best wishes for the way ahead."
Prof. Amitabha Bandyopadhyay, Co-Professor-in-charge, Innovation and Incubation, IIT Kanpur, says, "I always believed in this startup as it serves the ecosystem and uplifts the underprivileged workforce in numerous ways. Fleather has been able to resolve the most prevailing environmental challenges through flower waste, which, as an idea, should definitely be globally recognised. Congratulations to PHOOL.Co on this accomplishment."
In addition to their eligibility for the £1 million prize, all Finalists will receive tailored support and resources from the Earthshot Prize Global Alliance Members, an unprecedented network of private sector businesses around the world committed to helping scale innovative climate and environmental solutions and multiplying their impact.
Since its inception, more than 11,060 metric tons of flower waste collected every day from the temples in Uttar Pradesh, especially from the ghats of River Ganga, has been recycled at PHOOL. By the power of flower cycling, SIIC IIT Kanpur-incubated startup PHOOL stops 7,600 kilograms of waste flowers and 97 kilograms of toxic chemicals from getting into the river every day, along with providing livelihood to 1200 rural families and employment to 73 women 'flowercyclers' to create 'Fleather'. Big fashion houses like Anita Dongre have also shown interest in Fleather – a breathable and tensile material and sustainable leather alternative felicitated by PETA India at the CDC'20.
Prof. Ankush Sharma, Professor-in-charge, Innovation and Incubation, IIT Kanpur, congratulated the team of Phool, "I am overwhelmed by the revelation of the finalists by Prince William as I have seen the incredible journey of PHOOL Co.'s Fleather and how far they have come starting from our incubation centre."
Ankit Agarwal, Founder & CEO, Phool.co expressed his gratitude on qualifying as a finalist and also for the incubation support by SIIC IIT Kanpur, saying, "We are grateful for IIT Kanpur's belief in us and their consistent support. The Earthshot Prize Awards is an amazing opportunity, and it will encourage us to do our utmost to solve Ganga's floral waste problem and make this planet a better place".
Five winners among the fifteen will be selected by the Earthshot Prize Council that include: HRH Prince William, Her Majesty Queen Rania Al Abdullah of Jordan, Cate Blanchett, Daniel Alves Da Silva, Sir David Attenborough, Ernest Gibson, Hindou Oumarou Ibrahim, Jack Ma, Shakira Mebarak, Yao Ming, Luisa Neubauer, Indra Nooyi, Dr. Ngozi Okonjo-Iweala, and Naoko Yamazaki.
The Earthshot Prize convenes a diverse nominator coalition of more than 200 people and organisations around the world from every continent, a distinguished Expert Advisory Panel, and The Earthshot Prize Council comprising influential individuals committed to championing positive environmental action. The fifteen Finalists were assessed by the Expert Advisory Panel of scientific, academic, and subject-matter leaders.
The Earthshot Prize awards ceremony will take place on Friday, December 2 at the MGM Music Hall in Boston. It will premiere on Sunday, December 4, 2022.
About SIIC, IIT Kanpur:
Startup Incubation and Innovation Centre (SIIC), IIT Kanpur, is one of the oldest incubators in the country. It was established in 2000 when the entrepreneurial ecosystem was still at a nascent stage in India. The multifaceted and vibrant incubation ecosystem at IIT Kanpur, nurtured for over two decades, prospers to fill the gaps on the road to converting an idea into a successful and meaningful business model. The domain expertise combined with the infrastructural prowess of the academic institute has collectively demonstrated a knack for tremendous social impact and technological advancement over the years.
About PHOOL.Co:
Phool.co is an innovative startup focused on the circular economy which converts floral waste into Charcoal-free Luxury incense products and other wellness products. The startup is also India's first wellness brand to have Fair for Life- Fairtrade and Ecocert Organic & Natural certifications. With deep-tech research, the startup has also developed "Fleather" leveraging their flowercycling technology. Fleather is a viable alternative to Animal leather which was recently awarded PETA's best innovation in the Vegan World.
About The Earthshot Prize:
Founded by Prince William and The Royal Foundation in 2020, The Earthshot Prize is a global environmental prize to discover, accelerate, and scale ground-breaking solutions to repair and regenerate the planet. Inspired by President John F. Kennedy's Moonshot which united millions of people around the goal of reaching the moon, the Earthshot Prize aims to catalyse an Earthshot challenge to urgently encourage and scale innovative solutions that can help put the world firmly on a trajectory towards a stable climate, where communities, oceans, and biodiversity thrive in harmony by 2030.
● Fleather – a revolutionary alternative to leather by IIT Kanpur-incubated startup Phool.co has been selected as one of the finalists for the Second Annual Earthshot Prize Awards.
● Launched in 2020 by HRH Prince William, The Earthshot Prize is one of the most prestigious environmental awards.