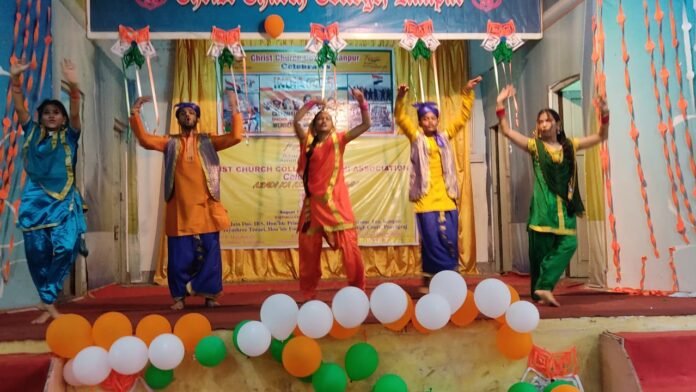 Kanpur August 15, The Independence Day at the Christ Church College this year created a spirit of pride among students. Nationalistic fervor and limitless enthusiasm was visible among the college fraternity and the students on the completion of uhSeventy-five years journey of Indian Independence.
The College has been celebrating the national festival by organizing a weeklong activity by college students. Various events included a Selfie with Tiranga contest, Essay writing, Rangoli competition, Quiz, and a cultural gala on 15th August. All these events were planned and organized by the college co-curricular committee.
The event in the college started with the Tiranga flag hoisting by alumna chief guest Jayshree Tiwari Former Justice, Allahabad High Court and Principal and Secretary Prof. Joseph Daniel. The national anthem was sung.
Dr. Mahalwal, Secretary College Alumni Association, conducted the flag hoisting program. College teachers and staff members including
Dr. Sabina Bodra (Vice-Principal) and Profs. D.C. Srivastav, Shipra Srivastav, Sujata Chaturvedi, Meetkamal, Ashutosh Saxena, Shalini Kapur, and others were present on the occasion.
A colorful cultural program by students followed the flag hoisting ceremony. Swikriti performed Bharatnatyam on Vande Mataram, Shrajal and Vedant recited their self-written poems, and Vivek Paul gave a tribute to the Indian Army through his western dance. Humdah, Naba, Kashish, and Sharon filled the atmosphere with their mesmerizing singing of songs such as Jai ho, Watan mere abaad rahe tu, and Aie mere watan ke logon. The college band of Utkarsh, Ruhanika, Honey and Udit performed on Sandese aate hain and Vande Mataram. It felt like everyone was swept off into the sea of melody and nationalistic spirit.
Students performed a short play on "Bantwaare ki Traasdi" based on famous writer Manto's story "Tuba Tek Singh " a very emotional and tear-jerking portrayal of the horrors of partition.
Cultural Committee Convener Dr. Vibha Dikshit planned and directed the short play with her team. Artists included Vedant, Dev, Nagendra, Utkarsh, Harshit, Abhishek, Priti, Gauravi, Vivek, Sahil, Priti, Rama, Sahil, Swapnil, and others.
The cultural gala concluded with a highly charged group dance on "Rang De Basanti." It filled the atmosphere with a high nationalistic zeal. Vivek, Swikriti, and Maanvi choreographed the group dance, and the dancers included Swapnil, Sahil, Dev, Kashish, Anjana, Nikita, and Sneha.
Everyone was enthralled by the students' performances of the college cultural committee.Dr Vibha Dixit the convenor of the cultural event organized the events with her team members including Hina, Archana, Sakshi, and student representatives Vedant, Maanvi, Abhishek, Udit, Naba, Nagendra, Esha, and others.
The event enthralled everyone with immense joy and evoked love for the country. Audience greeted Tiranga over the song Ghar Ghar Tiranga.