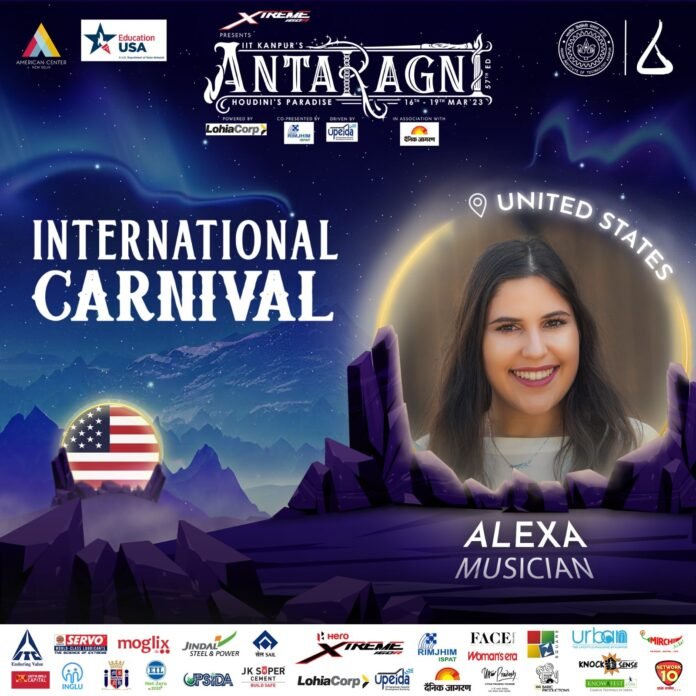 Kanpur, March 15, 2023: Antaragni, IIT Kanpur's iconic cultural festival, is back with a bang for its 57th edition and is ready to showcase its enchanting spirit to the world. For over 56 years, Antaragni has been a beacon of excellence and talent, promoting a celebration of love, light, and life. This year, the festival is set to take place in its full-fledged offline mode from March 16 to March 19, 2023.
Registering more than 1 lakh footfalls during the four-day schedule, Antaragni has become a grand spectacle of magic, imbued with a charming aura of joy and ecstasy. The India-inspired talks this year is scheduled with influential thought leaders Kiran Bedi, Former Lieutenant Governor of Puducherry, and Karnal Singh, Former Chief of Enforcement Directorate (ED); while the Alum Inspired event boasts an impressive lineup of speakers, including alumni Dr. Uday P Singh, Secretary General, Asian Civil Engineering Coordinating Council; Riya Bhattacharya, former Vice President, Navi; and Rajan Singh, Ex IPS officer & CEO HabitStrong.
The 'Mehfil' series features poets and performers Muskan Saxena, Ishika Chandelia, Sangita Yaduvanshi, Mirza Suleman, Swastika Rajput, and Chetna Balhara. For the classical music lovers, the Classical Eve will feature flute and table pair S.Akash and Shubh Maharaj; and the trio Nirali Kartik, Unmesh Banerjee, and Lalit Sisodia. Antaragni also presents a unique showcase of talented artists from around the world through its International Carnival lineup which includes Matt Bacon, Black Rhythm, and Alexa this year. The Talent Fiesta event, showcasing the rich and diverse cultural flairs of India, will host performances from artists like Satyajit Ramdas and Kashi Fire Warriors.
Comedian Rajat Chauhan will perform on the comedy night, while poets Amit Sharma, Fehmi Badayuni, Ekagra Sharma, Chirag Sharma, Manika Dubey, Swayam Srivastava, and Priyanshu Vatsalya, will take the attendees on a self-reflective journey at the Kavi Sammelan. Musical prodigy Antariksh will take center stage on the rock night; while Bollywood night will feature the legendary Salim-Sulaiman duo, renowned for their chartbuster songs. The EDM night will feature international EDM artist 39 Kingdom.
The festival's theme, "Houdini's Paradise," is an oasis of entertainment, featuring something for everyone – from the thrilling Escape Room and Gaming Zone to the exhilarating Zorbing and Silent Disco, to the classic favorites Poker and Archery. To echo this year's theme, IIT Kanpur will host magicians Nikhil Raj and Siddharth Tyagi, as well.
Antaragni will have several events and competitions ranging from debate, and quiz, to fashion, dance, musicals, and many more, with prizemoney and goodies at stake. Participants and attendees from all over India will take part in the four-day extravaganza.