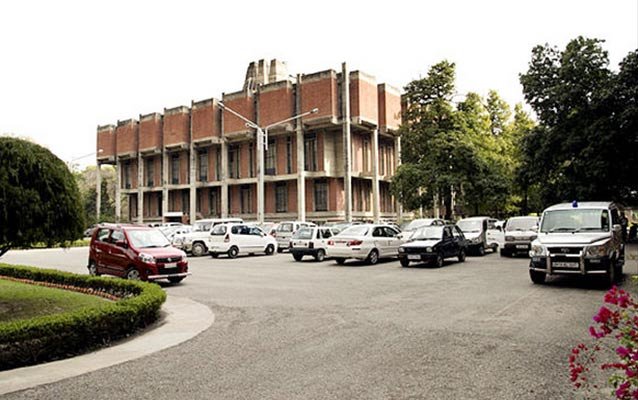 Kanpur, 13 July, 2022: Prof Abhay Karandikar, Director, IIT Kanpur and Kanpur Divisional Commissioner Dr. Raj Shekhar inaugurated a Smart Class at Shri Ram Janki Inter-College Bithoor on Tuesday Set up with the help of IIT Kanpur, it is a novel experiment, where IITians have come together to offer live online classes for rural school children. The classes are held after school hours, to augment what the children are learning in their classes. The advantage of this Smart Class is that volunteers teaching from IIT Kanpur and children sitting together are able to have continuous interaction with each other. The classroom is set with such a technique that it enables the children to see the teacher(s) and the board through a projector, and vice versa; thus, technology simulates a real class experience for both parties.
Rita Singh, who is coordinating the classes, told that in this hybrid mode of teaching, occasionally volunteers who teach also meet the school children, and conduct science activity sessions. Volunteers develop content under the guidance of experienced resource persons. To standardize the system, an educational app by Schooglink Pvt Ltd has also been developed. Blackboard notes and lectures are recorded, and made available to students for revising. In this unique model, technology is leveraged to channelize the energy of student volunteers to provide quality education in rural areas. Himanshu Agrawal, Founder and Director of Schooglink Pvt Ltd demonstrated the recorded videos in the app, available for all levels and all boards, in Hindi.
Prof Sandeep Sangal, from the Materials and Metallurgical Engineering Department, IIT Kanpur, told that in pre-Covid times, there were student groups from IIT Kanpur that visited nearby villages to hold tutorial classes. Hundreds of children of Pratappur Hari, Dallapurwa and Ishwariganj studied in these centres. Post-Covid, the project re-invented a method to enhance its reach and effectiveness.
The Ranjit Singh Rozi Shiksha Kendra (RSK), under the aegis of Unnat Bharat Abhiyan, has been built with the generous donation from late Dr Ranjit Singh, alumnus from the pioneer batch of IIT Kanpur, and his wife, Ms Martha Carreno. This centre was his dream to bring "Prosperity for All" through a socio-economic transformation in India. The aim of the RSK centre is to upskill youth, facilitate employment, develop an ecosystem of social enterprises, and provide quality education for rural school children.
Professor Abhay Karandikar, Director, IIT Kanpur said that the institute was committed to make technologies relevant to the society. RSK IITK has already been doing skill development training for rural youth. He told students that hard work can pave the way to a good future, and Late Ranjit Singh is an apt example in this regard, as he rose from poverty to achieve big success.
Dr Raj Shekhar said the that he had officially requested IIT Kanpur to take up 10 smart classes set up by the Office of DIOS and run classes there. He lauded the efforts of IIT in bringing out the technology that can prove to be revolutionary in rural areas.
Prof Sandeep Sangal, PI of the Unnat Bharat Abhiyan at IIT Kanpur, told that through this initiative, many prominent teachers are getting to teach rural kids, who, otherwise, would not have been able to reach them.
Prof V Vijay, National Coordinator of Unnat Bharat Abhiyan connected from Delhi and told the possibilities of using this model by all institutions. This way, the model can be scaled up to cover all rural schools in future. Principal Dr Sarvesh Singh welcomed the guests and Capt Sudhir Subhedar (Manager) gave vote of thanks.
The programme was graced by Joint Director (Education) and DIOS. From IIT Kanpur, Prof Sudhanshu Shekhar Singh who is the co-coordinator of the programme was present, along with Rita Singh (Coordinator), Himanshu Agarwal (Schooglink), Prof Siddhartha Panda (Dean)