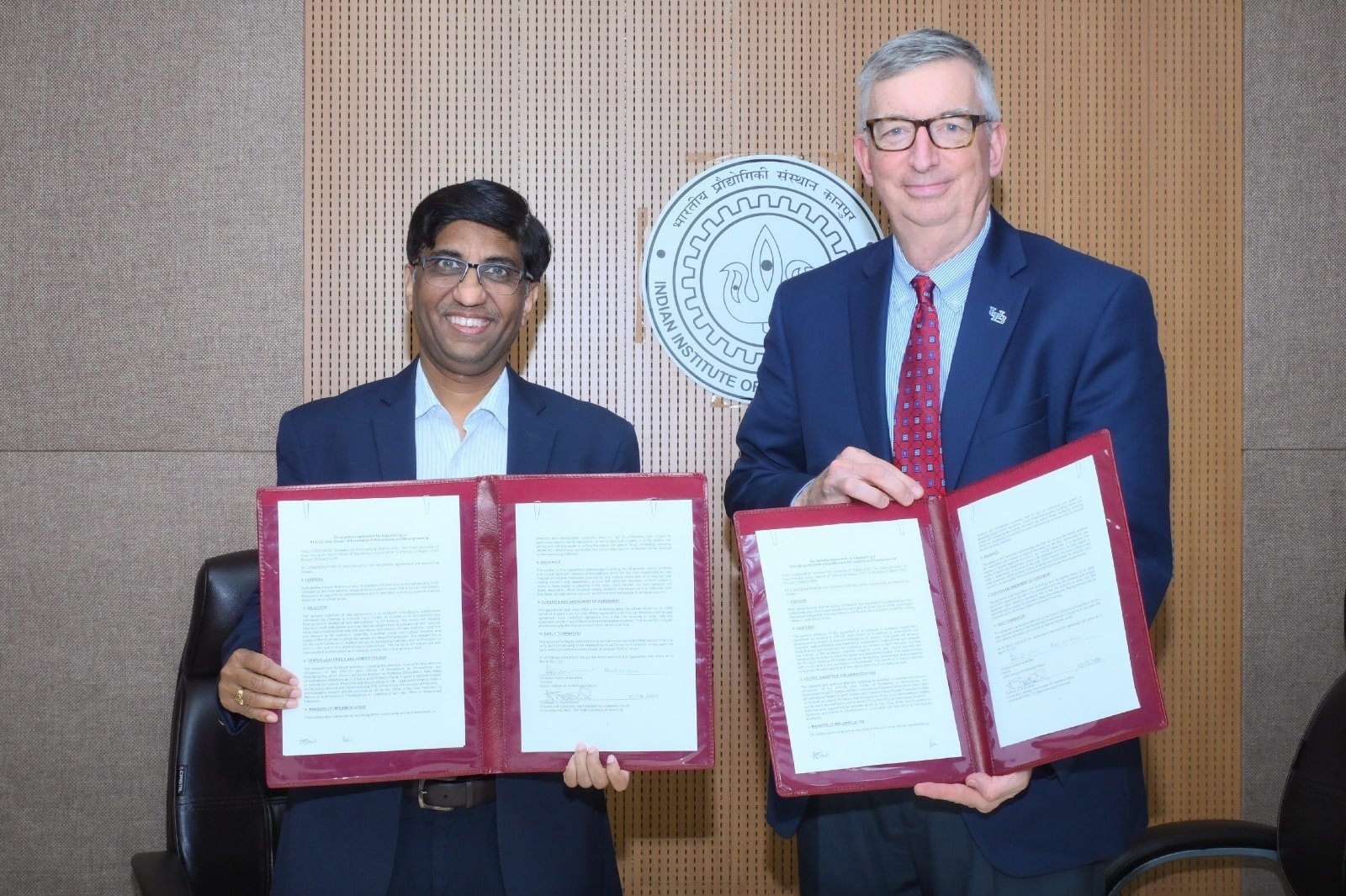 Kanpur, March 24 : The Indian Institute of Technology Kanpur (IITK) and the University at Buffalo, USA (UB) have signed a cooperation agreement at IIT Kanpur to enrich research in Biomedicine and Bioengineering.
The agreement was signed by Prof. Abhay Karandikar, Director, IIT Kanpur, and Prof A. Scott Weber, Provost and Executive Vice President for Academic Affairs, University of Buffalo.
By signing this cooperation agreement, IITK and UB have agreed to establish the IITK-UB Joint Center of Excellence in Biomedicine and Bioengineering at IIT Kanpur premises. The center is being established with the objective to facilitate long-term collaborations in education and research between IIT Kanpur and University at Buffalo, as well as other institutions. The research focus of this Center will be on developing materials and technologies for both in vitro (studies performed with cells) and in vivo (studies performed with animals) applications in biosciences.
According to Prof. Abhay Karandikar Director IIT Kanpur said,"The agreement we signed today with University at Buffalo is in continuation to an existing MoU between the two institutes. Both the institutes have strategic objectives to collaborate for research that would help us build a robust ecosystem in Biomedicine and Bioengineering. The Center aims to develop materials technologies for bioscience applications and facilitate long-term joint research collaborations. We're confident that this Center would provide several opportunities to our researchers, faculty and students in taking forward research in these core areas."
Prof. Venu Govindaraju, Vice President for Research and Economic Development Prof. Kemper Lewis Dean School of Engineering and Applied Sciences Prof Paras Prasad, Professor, Department of Chemistry; Prof. Mark Swihart, Chair, Chemical and Biological Engineering; Prof. Supriya Mahajan, Professor, Jacobs School of Medicine and Biomedical Sciences; Prof. Luis Velarde, Professor, Department of Chemistry; Prof. John Tomaszewski, Distinguished Professor, Jacobs School of Medicine and Biomedical Sciences and Prof. Jonathan Bird, Professor, Jacobs School of Medicine and Biomedical Sciences of UB were present at the ceremony.
Prof. Dhirendra Katti Dean of International Relations Prof Shalabh, Dean of Academic Affairs Prof Kantesh Balani, Dean of Resources and Alumni and Prof Yogesh Joshi, Department of Chemical Engineering of IITK were also present at the ceremony.
The Center would facilitate exchange of students and researchers between IIT Kanpur and UB along with facilitating collaborative research and training programs joint conferences, thematic workshops and exchange of scholarly material.
The cooperation agreement comes after a Joint Degree Program agreement that was signed between IITK and UB in 2017, to provide selected doctoral students at either institutes the opportunity to conduct research at the partner institute and earn two degrees, one each from IITK and UB.
The agreement will facilitate the establishment of the IITK-UB Joint Center of Excellence in Biomedicine and Bioengineering
The agreement would provide the scope for joint research, exchange of students and researchers, and exchange of academic materials, among others