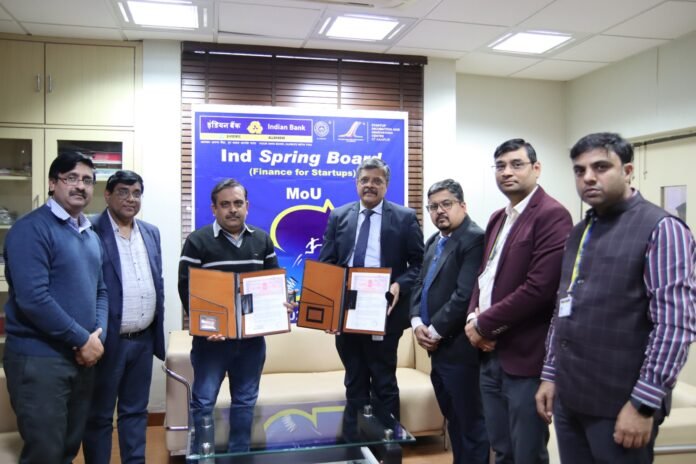 Kanpur, February 17, 2023 IIT Kanpur's technology business incubation centre, Startup Incubation and Innovation Centre (SIIC), has exchanged a memorandum of understanding (MoU) with the Indian Bank.
The MoU was signed at SIIC in IIT Kanpur's campus in the presence of dignitaries from SIIC and the Indian Bank. Prof. Ankush Sharma, Professor-in-charge, Innovation & Incubation, IIT Kanpur* and Mr. Vivek, Zonal Manager, Indian Bank, Kanpur were the signing authorities, Mr. Piyush Mishra, COO, SIIC, CS Yogi Srivastava, General Manager, Company Secretary, SIIC, Mr. Saurav Jain, MAPC Head, Indian Bank, Kanpur, CA Prashant Shrivastava, Chief Manager Credit, Zonal Office, Indian Bank, Kanpur, and Mr. Pankaj Kumar Singh, Branch Manager, Indian Bank, Kalyanpur were present during the event.
The two bodies will work together to identify innovative startups and extend financial support under the "Ind Spring Board (Finance for Startups)"scheme of the Indian Bank. The two parties further discussed the framework for identifying the startups for this collective effort. Prof. Ankush Sharma, Professor-in-Charge, Innovation and Incubation, IIT Kanpur, was quoted saying, "SIIC has a standard process of identifying promising startups with high-impact potential. This collaboration with Indian Bank will enable us to extend critical support to emerging Indian startups that will enable them to scale and accelerate their product development journey."
Vivek, Zonal Manager, Indian Bank, Kanpur, added, "As a key stakeholder in the finance industry, we are proud to be supporting the modern Indian vision for an inclusive financial ecosystem nationally through this collaboration with SIIC. It is indeed inspiring to understand how innovations refine the user experience for a better and self-sustainable nation."
The parties engaged in an in-depth discussion about the incubation model and the diverse startup portfolio at SIIC. The dignitaries also spoke about deploying a mechanism to facilitate the exchange of startups working towards building disruptive technology solutions.
• SIIC and Indian Bank have joined hands to extend financial support to the selected startups through an MoU
• SIIC and Indian Bank will work together to identify and support startups under the "Ind Spring Board (Finance for Startups)" scheme under the MoU